Determining the cost to move a pool table in Indianapolis
Very few people asked this question before they actually buy a pool table and sadly enough they always find that it cost much more than they expected. Experienced pool table movers will need to know a few particulars to determine the cost to move a pool table.
If a professional pool table mover will not move a pool table in one piece, why would you want to try to do it?
Factors determining how much the cost to move a pool table will be
1. What kind of table is it? is it a drop pocket pool table? Does it have leather pockets, plastic pockets, a ball return system?
2. Are there any stairs involved in the move?
3. The distance where the tables coming from and where the pool tables going to. Are there any special circumstances that would make it difficult for professional movers to bring the table into or out of a house?
Go ahead and call us now to find out the cost to move a pool table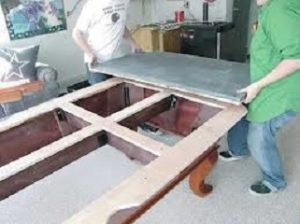 These are the main questions that a professional billiard service company that does pool table moves on a daily basis will want to know before they can tell you how much it costs. The dimensions of the table are important just like the pool table room sizes in determining the cost as well.
There are generally 7, 8, & 9-foot slate pool tables and to tell you how much the price to move a billiards table we will want to know how many stairs we will have to negotiate, especially with the larger table because they are three pieces of slate playfield and they are very heavy when we have to carry them long distances and it can be dangerous going up and down stairs even with one of the pieces of slate.
There's a lot of really bad information on the internet!
Videos on YouTube and things of that nature trying to show you how to move the pool table yourself so you can save the money. It's just a plain bad idea. That pool table was not meant to be moved in one piece, it was built in the factory piece by piece and it was shipped piece by piece and a pool table needs to be installed piece by piece.
Why don't you just move the pool table yourself?
Moving the pool table in one piece is a ridiculous idea only needed to be attempted by fools. There are so many pool table brands out there, each manufacturer has different models, not to mention there are companies that already sold out, so there is a possibility that your pool table might be discontinued.
So in order to answer the question of what the cost to move a pool table is? Well, we need to know most of the particulars we mentioned. Simply give us a call or send us an e-mail and we will get back to you as soon as we possibly can.
We can assure you that, a proper pool table assembly is an intricate process that should only be taken care of by professionals using the appropriate tools. Often you find that the service for a pool table is going to be comparable to the price, usually, people are anxious to get rid of their pool tables, either because they no longer use them, they have to move out and do not want to spend on the service.
Factors you should also consider when trying to figure out the cost to move a pool table
What you have to think about is that this table will probably only be moved once or twice in the time that you own it. So this is an expense that will not come up often and when it does get moved it is better to go with a professional service that can offer a guarantee, this way all you are looking at is a one-time price for the service and not the additional costs that can result from a faulty installation, damage to the table and/or property and most importantly personal injury.
We often get calls from customers that chose to go with a low-priced service and were either rescheduled, the job was canceled and the table or property was damaged by an inexperienced installer. Please consider this when shopping around.
Pool tables are not often moved if that's out of your budget and you don't want to spend the proper amount to have the pool table properly installed and moved with all of the appropriate tools and techniques to ensure the table is not damaged and is installed for your best playing experience then it's possible you may want to reconsider the pool table in the first place.
Are you stuck with the decision to move the pool table right now?
If you have already bought the table and are now trying to figure out how to move it without spending the money after you found out how much the price to move a pool table correctly? Well, we don't have any good answers for you. One thing you need to know is if you do try to move the pool table yourself, it's going to cost you the same amount of money to have us come and fix any problems you cause due to inexperience so it's best to just put the money into the professionals and save yourself the extra time, headache and embarrassment.
Now you have an idea of how much it will be to move a pool table in Indianapolis.